Although many of us think about dandelions in the spring and summer, fall is the best time to harvest them for their roots. This time of year, dandelion roots will have the most nutrients and will be a bit easier to get out of the ground since rains have usually come back by now and have loosened the soil.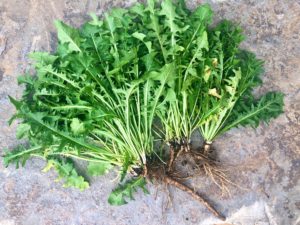 While the entire dandelion plant can be used for medicinal and food purposes, the roots are packed with their own host of benefits. The roots are full of inulin which is a starchy substance that helps keep your gut healthy (this is also known as a pre-biotic). Dandelion roots also promote liver health by helping to balance hormones, inflammation, and improve digestion. There are some preliminary studies that have shown that they could be beneficial to those with cancer, as well. The health benefits are numerous, but they are also cheap to purchase and/or free if you can harvest them from your own space (provided they haven't been sprayed with pesticides/herbicides) and they taste great.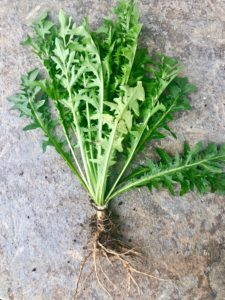 Whether you harvest the roots yourself or buy them fresh, there are a number of different ways to use them. Drying and roasting them can give them a nutty, rich taste that can be made into tea.
How to Roast Dandelion Roots
Once your roots are harvested, carefully wash them leaving as much of the root sheath intact.
Pat dry and mince the roots and leave them out to dry. A dehydrator can be used if you live in a humid climate or want to speed up the process a bit.
After the minced-up roots are completely dried out, use a dry cast iron skillet to roast them until they have browned. You can also roast them in the oven at 350 degrees. For both options make sure to check on them and stir frequently to avoid burning.
Once they are roasted, let them cool and put in a dark, airtight container and store them in a cool, dry place for up to a year.
Creamy Roasted Dandelion Root Tea (makes one serving)
What You'll Need:
16 oz water
1 tbsp butter (a high-quality butter is best to use for this)
2 tbsp minced roasted dandelion roots
How to Make it:
Put the minced roasted dandelion roots and the water in a small saucepan and bring to a boil
Let simmer, uncovered for 20 minutes
Strain out the dandelion root and reserve the liquid.
Put the dandelion root tea and the butter in a blender and blend on high for about 10 seconds.
Pour into a mug and enjoy!
If you want to learn more about the other parts of the dandelion and how to use them you can read more here.